WEBPAGE THEATER
"Sit Back, Relax & Enjoy The Show!"
IT'S ONE THING TO READ ABOUT A TRAIL
IT'S ANOTHER TO ACTUALLY TRAVEL IT!
GET READY TO WATCH OUR ON-LINE SLIDESHOW . . .
THE WEST COAST TRAIL
An Odyssey Along The Pacific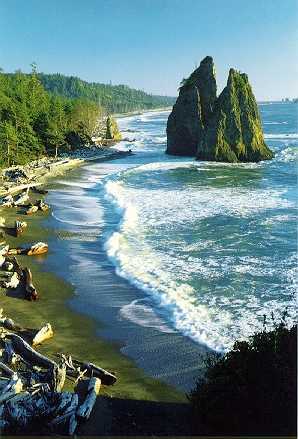 Simply click BEGIN to start the whole show!
(Running time is approximately 52 minutes, each slide has a 30 second time span.
Yes, that sounds slow but . . . it would take a person about 5 months to hike the whole thing,
so, in reality that's a pretty fast trip! Slow down, relax, and enjoy the high quality photos.)
OR take smaller trips
by clicking your choice below.
WASHINGTON COAST TRAIL
(22 minutes)
OREGON COAST TRAIL
(16 minutes)
CALIFORNIA COASTAL TRAIL (Short version)
(14 minutes)
---
---