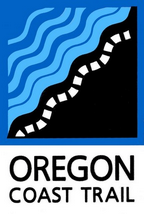 PLAN


National Coast Trail Association Recommendation, Oregon Coast Trail:

POSTPONE

OR

CANCEL

Thru-Hikes and Overnight Backpacking Trips due to

COVID-19

until further notice.


Detailed information from our organization can be found

here, and from Oregon State Parks here.


Planning a trip along the Oregon Coast Trail is crucial to meet the unique challenges of coastal hiking, especially tidal and water crossings, and to best enhance the overall recreational experience.
Here you will find some of the most basic information to best prepare for your trip, such as a suggested thru-hike intinerary of the entire Oregon Coast Trail, tides and specifics on crossing rivers, bays, estuaries, streams and creeks, and one hiking guide author's information about how to make connections between gaps or uncompleted trail segments.
Water Crossings:
There are a number of rivers, bays, estuaries, streams and creeks to cross along the Oregon Coast Trail, and information in this section is current for 2020.
Ferry Service across Nehalem Bay and the Umpqua River
Nehalem Bay may be crossed by simply calling or literally waving across to the other side to catch a boat when you arrive on the east side of the south spit of Nehalem Bay State Park. Jetty Fishery offers ferry service from 7AM-6PM everyday in the summer and all year (daylight hours as appropriate) for $10 per person, phone 503-368-5746. Apparently helpful for hikers, is during summer months to look for the giant American flag waving across the river and simply wave in that direction.
The Umpqua River may be crossed by calling 48 hours or more in advance to arrange a very specific time and date for pickup, and most likely means calling ahead while in Florence, Oregon.

It is very important to be on time for the scheduled pick-up time

as one of various fishing guides with potentially other already scheduled fishing trips may need to be elsewhere later.

Not arriving at the pre-arranged point of departure on time may not only mean missing your ride, but also other serious logistic consequences

associated with essentially being on the southern expanse of sand dunes without drinkable water available (the lower river is mixed with seawater) and requiring a 4-mile hike north on the beach to access an inland road for another few miles out to the main road, and then hiking south along Highway 101 until reaching your eventual destination at Winchester Bay! Don't miss the boat! Winchester Bay Charters offers and coordinates with other fishing guides to provide ferry service, weather and other circumstances permitting, within the 6AM-8PM time-range from May 1-September 30, $40 for the first person, $10 each additional person, phone 541-361-0180.
Making Connections between Uncompleted Segments
:
The Oregon Parks & Recreation Department is working with others to complete the Oregon Coast Trail with about 45 miles total of gaps along the envisioned 400-mile trail system not yet developed. This means someone hiking the entire Oregon Coast Trail or doing significant stretches needs to know how to connect between existing trails.

Bonnie Henderson
has hiked the entire Oregon Coast Trail and developed a section of her own website blog sharing her ideas on how to make such connections. We simply offer these links to her information to assist you in planning your trip, especially in
making connections between gaps in the Oregon Coast Trail
.

NOTE:

To move forward to the next hiking section within each area of the coast, simply scroll down to the bottom of each webpage and click on "Newer Post." Bonnie is also the
author of

Day Hiking Oregon Coast

(See the Book section for specific details.)

ISSUE: HECETA HEAD TUNNEL and the COQUILLE RIVER BRIDGE!!! Serious Safety Recommendations!
Given our assessment that

walking through this tunnel or across this specific bridge poses a serious risk of personal injury to self and drivers

, towards addressing the issue of public safety

we recommend

NOT walking them and

arranging transport by motor vehicle

at these two locations.

Our asessment is based on the fact that there are NO pedestrian facilites either in the tunnel or the bridge. Hikers could potentially arrange transport by motor vehicle from the Heceta Head State Park parking lot through the tunnel to a pull-out area just after the tunnel, and from Bullard's Beach Statet Park across the bridge to some appropriately safe area along or off of Highway 101 south of the bridge itself. Trail advocate, founder and director of the National Coast Trail Assocation, while thru-hiking the entire trail as a media event in 2008, purposely arranged transport at these two locations to highlight the fact that they pose a serious safety issue and that an appropriate trail solution needs to be developed and completed. (NOTE: A "press-a-button" option has been added on both sides of the Coquille River Bridge, which allows cyclists and hikers the opportunity to trigger a flashing warning sign to alert motorists that there are either pedestrians or cyclists on the bridge and requiring them to decrease their speed limit. However, given the narrow width of the bridge itself, while a cyclist has the potential to more quickly and thus more safely move across the bridge with the careful timing of oncoming traffic, this would be more difficult for a pedestrain, and therefore we still recommend NOT walking across the bridge.)


OPTION: PUBLIC BUS TRANSPORTATION - CARL WASHBURNE STATE PARK/FLORENCE.

There's a bus service offered that connects Florence and Yachats in both directions, here's the schedule and details. This is a useful transportation option not only for hikers to avoid the Heceta Head Tunnel, but also, since the Oregon Coast Trail south of the tunnel is not yet complete -- and since stops include a grocery store (Grocery Outlet) in Florence, Oregon and a state park campground to the north of Heceta Head with a hiker/biker campsite, (Carl Washburne State Park) -- Since the Oregon Coast Trail south of the Heceta Head Lighthouse area is not yet complete, these stops allow a hiker to take the bus directly from this state park to Florence, resupply, and continue south.



ISSUE: LANDSLIDES CREATE A BREAK IN THE OREGON COAST TRAIL

, ARRANGING TRANSPORT FROM SEASIDE TO CANNON BEACH RECOMMENDED, DETAILS BELOW.

This completed section of the Oregon Coast Trail has experienced landslides that closed a section of the Oregon Coast Trail in Spring 2018, with reopening scheduled for June 2020. However, a landslide that not only damaged the park entrance road but also another trail section happened in early 2020. What this means for a hiker, is that although one may still hike from the Tillamook Head Trailhead in Seaside to the Indian Beach area of Ecola State Park, access south is prohibited. This is an incredibly beautiful section of the Oregon Coast Trail, and therefore worth hiking to Indian Beach and back to Seaside to experience it.

However, since it is officially closed, proceeding south would not be advised, especially in terms of potential safety issues and impacts to the natural environment. Details and further information below.



OPTION: PUBLIC BUS TRANSPORTATION -- SEASIDE/CANNON BEACH

WEEKDAYS

&

WEEKENDS

SCHEDULES, COST, $1.00




1. TRAIL OFFICIALLY CLOSED, INDIAN BEACH TO ECOLA POINT PARKING LOTS IN ECOLA STATE PARK.

"General Advisory - Starting 05/16/2018 - Ecola Point to Indian Beach Trail CLOSED. This popular hike usually connects Ecola Point and Indian Beach day use areas. Excessive precipitation from the 2016-17 winter caused a large landslide that took out a critical section of trail, requiring a significant re-route. It is unknown at this time when that work will be completed. In the meantime, PLEASE do not attempt this trail by creating your own detour. Besides being potentially dangerous, user-created trails can cause serious damage to some of Oregon's most precious natural resources. Thank you for your consideration." Source: Oregon Parks & Recreation Department / Arranging a ride from the Indian Beach parking lot to the Ecola Point parking lot is recommended until the trail re-opens. NOTE: Although completion of this re-route was expected on or before June 15, 2020, the closure of Ecola State Park (see details below) has apparently kept this closure in effect until further notice.


2. EMERGENCY CLOSURE OF ECOLA STATE PARK.

Winter 2020. Ecola State Park is CLOSED due to failure of the main entrance road. Crews are evaluating road damage, weather and soil conditions and repair options. There is currently no timeline for reopening.


3. CRESCENT BEACH TRAIL CLOSED

- "As of Feb. 12, Ecola State Park is closed until further notice south of Indian Beach Day-use Area. Recent landslides in the park have damaged the park entrance road, and wiped out about 100 feet of the Crescent Beach Trail. Indian Beach Day-use Area remains open accessible via the Tillamook Head Trail; it's about a 6 mile hike into the park from the trailhead south of Seaside. View the park brochure for more info." Source
: Oregon Parks & Recreation Department

Tide Tables:
There are a number of creeks, streams and rivers to cross and points of rock to get around safely along the Oregon Coast Trail. Knowing how to read a tide table is a crucial skill to have and it's

essential to plan your trip's intineary not only in terms of the dates you will do it, but also on both a daily and next day level, since you may need to reach a certain place the day before

to maximze your ability to reach a certain point the next day to make the tide level to pass a point or make a water crossing, too! Here are the Oregon Coast Tide Tables for 2020, and here's a smartphone version, too.
Itinerary: Oregon Coast Trail 31-Day Thru-Hike
This potential itinerary, one of various options, is offered as a starting point to develop and refine your own specific intinerary.

This option was developed based especially upon distance and specifc terrain traveled plus tide dependent sections and assumes increasing levels of physical conditioning as the hike progresses.

The locations listed are where you would arrive at the end of each day, and though many offer

official camping opportunities and are noted in bold

, the others (not bolded) currrently do not. (The National Coast Trail Association proposed in their revised 2015 report to complete the Oregon Coast Trail that the Oregon Parks & Recreation Department, given the general locations noted are already public lands in existing state parks, that they become officially recognized as "backpacker only" campsite areas to serve the logistic needs of long-distance overnight hikers doing sections of, or the entire, Oregon Coast Trail.)

DAY 31 is the end of the hike at the California border, and you would have to arrange transportation from there, and overnight accomodations either north or south, one option being to return to Harris Beach SP.

Plan on 30 days for hiking, 5 weeks total to do the whole hike to include transport time by plane, train or bus to and from home.

State Park Hiker-Biker Campsites are "walk-in" sites not requiring reservations, whereas other campsites (direct links in blue below) have such a high usage rate during the summer season that reservations are typcially necessary to guarantee a site.
Key: SP = State Park / HB = Hiker-Biker
Copyright 2020 National Coast Trail Association. All Rights Reserved. DISCLAIMER / JOIN